A common saying in business development and marketing is "customer is king". It makes sense because no matter what a business model looks like, it generates revenue from customers. If customers are happy, the business is happy.
To keep customers happy, there is no way around customer relationship management, commonly known as CRM. It's essentially the practice to analyze customer data and derive meaningful information to make changes to marketing and sales operations.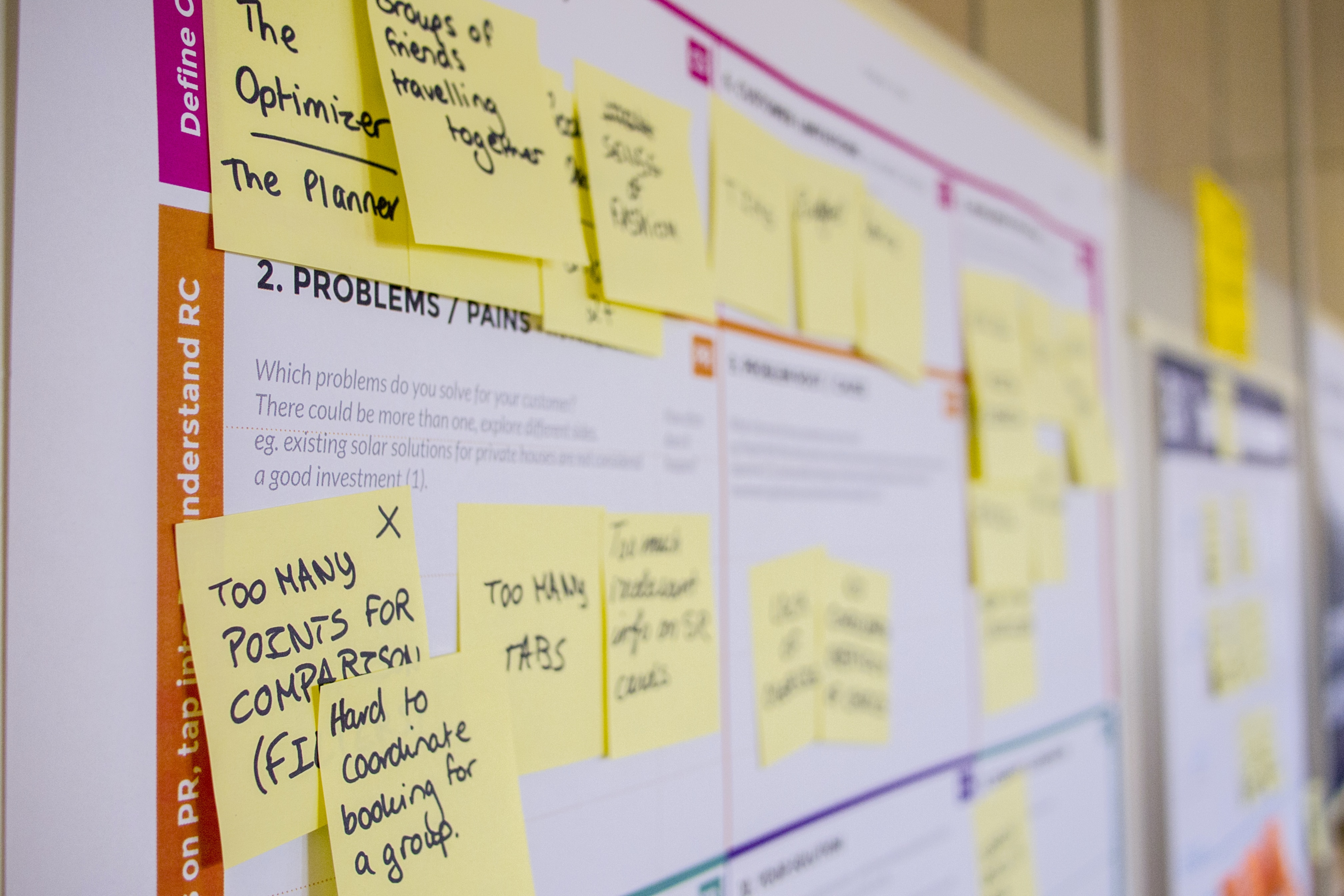 I was around the time when customer experience was considered the pinnacle of business success. Over the years, it has transitioned to customer satisfaction. The sales funnel must be designed with customer needs in mind. CRM systems have long been a part of the game to optimize the customer journey.
But times are changing. So is CRM. The only way to stay relevant for business leaders is by adapting to new trends in customer relationship management. It also happens to be the topic of my discussion today.
I'll share the future of CRM, at least what I think of it. I'll also share my top picks for CRM systems so that you can implement what you learn in this post for better customer relationships.
The future of CRM: Key trends to watch in 2023
By definition, a trend is "a general direction in which something is developing or changing". It's apparent that trends are supposed to change in business as customer behavior changes. We're nearing the end of 2023 and new trends are emerging left and right.
Let me list the ones I've seen making the biggest impacts.
Aligning All Operational Goals
Marketing teams are integral to businesses. They design marketing campaigns that attract customers to the sales funnel. The sales teams then take over to convert the interested prospect into a paying customer. Last but not least, the operations teams come into play to take care of the logistics.
There was a time when all of these teams would work toward different goals. Marketing served the purpose of bringing in new eyes while sales steered the conversion.
But in 2023 and onward, customer preferences suggest that all teams must work toward common goals. Data shows that aligning the goal for different phases of the customer lifecycle helps a business to meet its KPIs.
To be honest, operating in sync makes more sense to me. When customers make a purchase decision, the product alone is not the focus. Rather, it's how the user experience (UX) blends everything together. It's only possible to offer a holistic customer experience when business nuances follow the same goal.
More Sales Require New Definitions
Aligning the goal for the entire sales cycle is a great place to start for a CRM strategy. But it's the implementation that drives the point home. To achieve this effect, both sales and marketing teams must establish rules for everyone in the system to follow.
For example, defining the ideal customer is one of the first steps of any marketing strategy. Sales and marketing must work hand-in-hand to keep communication uniform across the board.
This is where CRM software comes into play. After the marketing teams sort through the target audience and identify qualified leads, the sales reps start nurturing them. The communication between the teams can be managed effortlessly with CRM platforms.
In case you're not aware, a CRM platform stores all customer data in one place, helping with CRM analytics. Members of the marketing team can input data into the CRM, allowing sales teams to go through it in real time. There is virtually no friction in the process, accelerating customer communications.
A Customer-First Approach
There has been a big shift in customer relationship management in the past few years. Almost all new-era CRM systems have shifted to a customer-first approach. Before, it was a company-first model.
Previously, the goal of gathering customer data was to benefit the business. Actions and strategies were developed based on what the business believes to be true.
It wasn't long before the CRM providers realized that it's the customers that make a business. Features like customer intelligence, customer insights, and preferences of existing customers started making their way into CRM offerings.
Fast forward to today, it has turned into one of the key CRM trends. At the core of this approach is customer retention. Of course, the widespread availability of relevant data has been a major driver behind this shift.
Modern CRM platforms keep all kinds of customer data handy for the sales and marketing teams so that they can act fast.
For example, when the customer service teams have CRM data right at their fingertips, they know exactly what a customer wants. This results in very streamlined communication between the business and its customers, allowing for growth.
Intuitive and Mobile-Ready CRM Systems
When CRM platforms first came out, they weren't favored by sales professionals. The CRM technology at that time was very complex. It took a long time to deploy a system. It also required businesses to employ CRM experts to operate it.
Today's CRM systems, however, are focusing more on ease of use than ever before. Modern cloud-based CRM software solutions are very simple to use and come with detailed instructions for the users.
Most importantly, you can use the same CRM strategy suggested by customer success teams without dealing with the complexities.
Mobile CRM is one of the other emerging CRM trends that can change the landscape forever! Although the functionalities are still limited on mobile devices, I can see it as one of the future trends in customer relationships.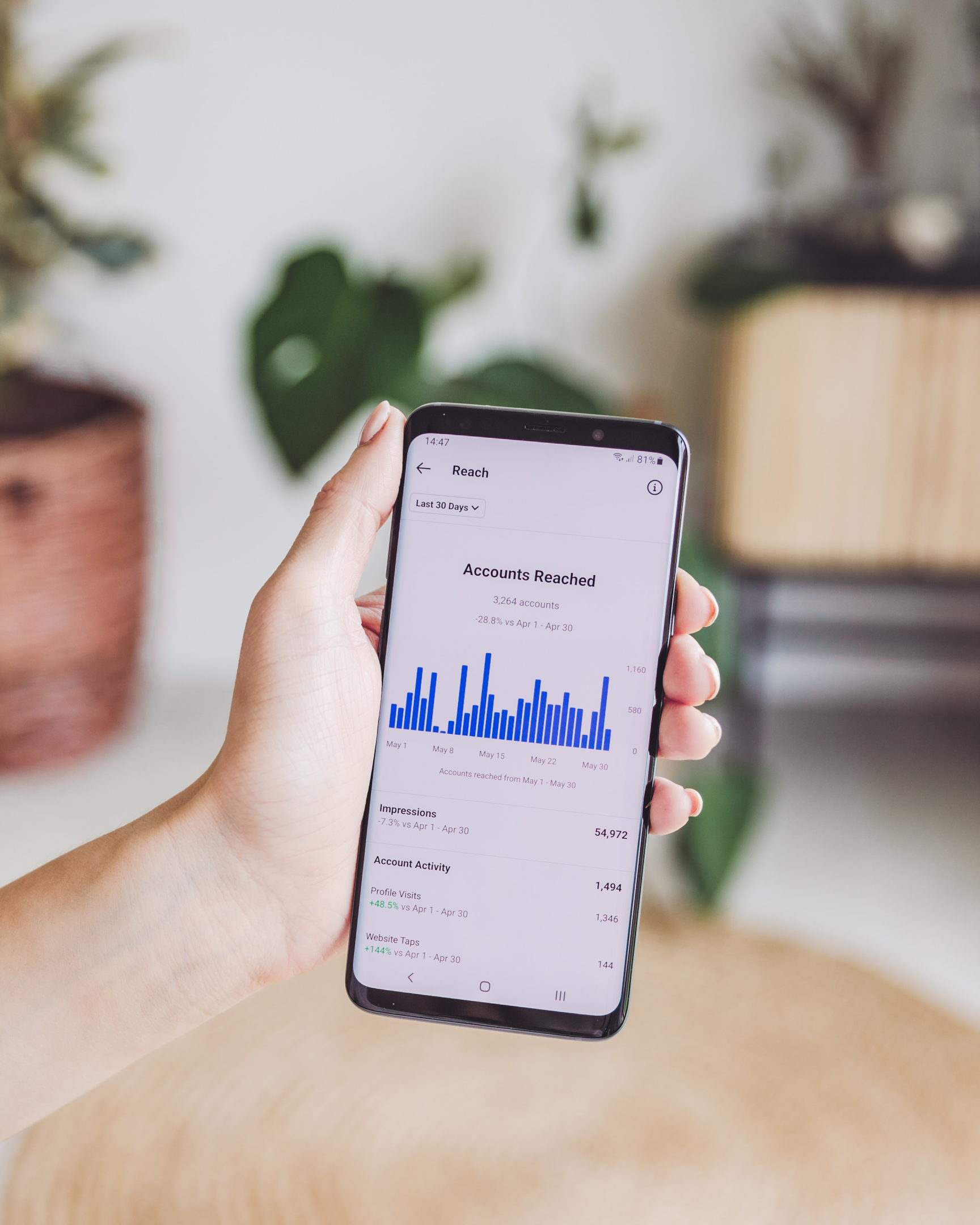 AI-Powered CRM
If there is one branch of technology disrupting everything in 2023, it's artificial intelligence. Of course, it has made its way into CRM.
I see many sales professionals fear that artificial intelligence will replace them and take their jobs. It's just not true. No matter how advanced an AI system gets, it can't replace humans.
But it surely empowers humans to do a better job of managing customer interactions. The infamous predictive analytics prowess of modern AI and machine learning can turn out a game-changer for sales organizations. Viewing CRM analytics can become easier with not as much time spent on manual analysis.
It's all thanks to how fast AI can analyze data and find patterns to evaluate customer needs. AI may as well do a better job simply because it can learn from previous iterations.
Customer Relationship Management Best Practices for the Future
As I've said countless times in my other blogs and this one, the only way to stay relevant in this very competitive time is future-proofing. You need to adapt your business strategies that resonate with customer needs more than your business needs.
To illustrate the point, let me share what I think are the best practices for CRM growth.
Centralizing Customer Data
The biggest reason cloud-based tools are so popular in the 21st century is the centralization it offers. You and your team members get to share the same dashboard to keep things consistent.
And the best way to achieve centralization is with CRM solutions. Unlike time tracking tools or project management tools, CRM systems offer a true 360 view of your business operations.
One of the main purposes of a CRM system is maintaining client communication. Every piece of customer data is captured on the CRM dashboard, allowing us to make changes where necessary.
Take customer services for example. A modern CRM system will most likely offer social media integration. You get to add mainstream platforms like Facebook, Twitter, Instagram, LinkedIn, and every other social media out there.
The benefit here is that as soon as someone asks a question or shows interest, you get notified. You don't have to manually log into your social media handles to answer the query. This not only boosts your business response time but also eliminates inefficiency in the process.
Automate Sales Processes
Sales automation is one of the biggest favors you can do for your business. Sales technology has come a long way in the past few decades. While digital tools allow professionals to keep better track of data, a lot of time is still wasted on repetitive, non-revenue-generating tasks.
It's a customer relationship management system that truly allows automation.
The members of your sales team can monitor customer interactions, past actions, feedback, current sales pipelines, and everything in between. This allows for better filtering of opportunities for enhanced future business.
Get the Full Picture
CRM buyers often look for holistic solutions rather than isolated ones. If you have to switch back and forth between your CRM, supply chain visibility, inventory management, social media, and whatnot, you'll be spending a lot of time doing tasks that you could've done at once.
That's where CRM integrations come into play. A modern CRM system allows business owners to integrate a sales pipeline, inventory management software, customer support, email marketing, time tracking, payroll management, and pretty much all other aspects of a business.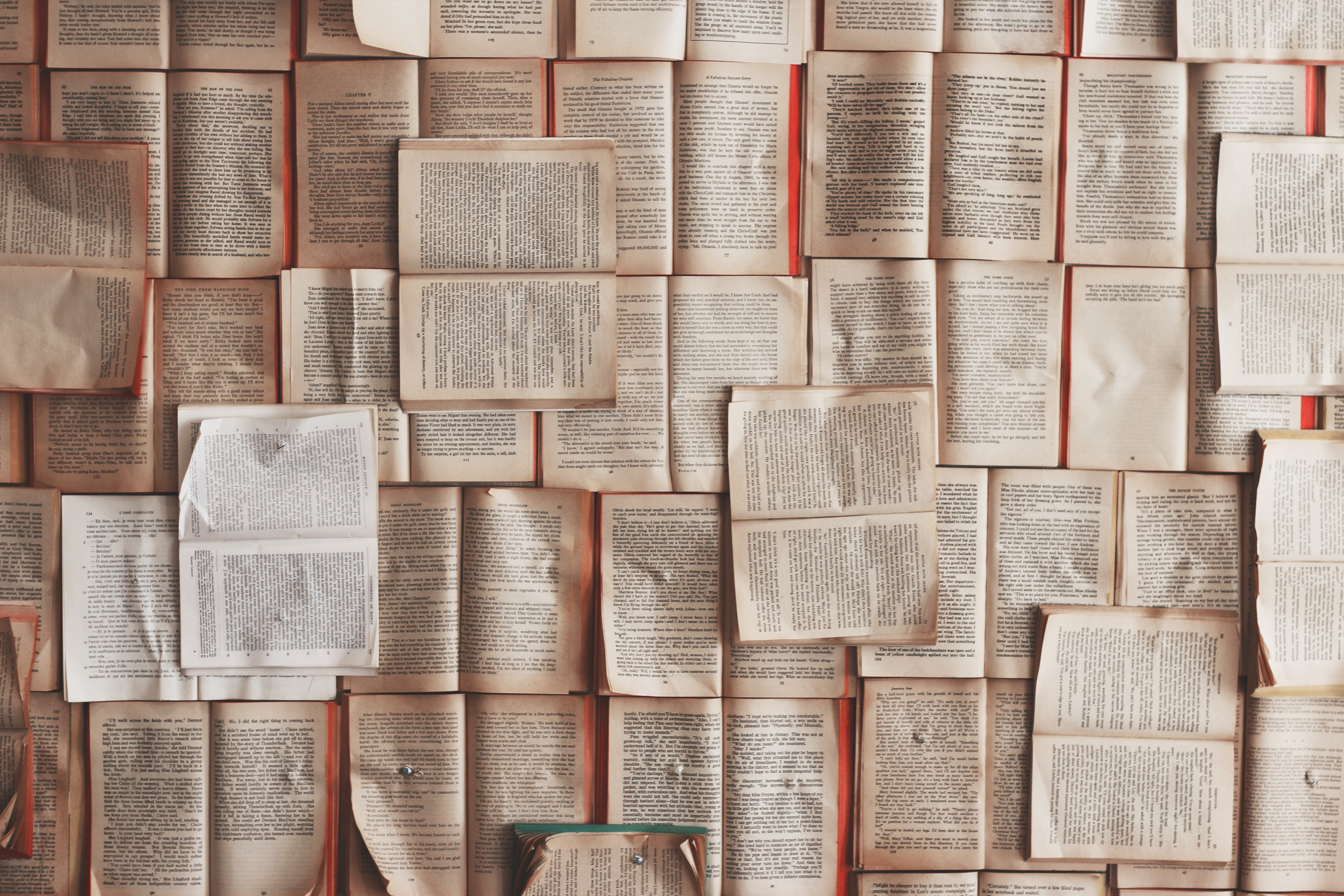 Every time you add a new component, it shows up on your CRM dashboard. Shuffling between 10 different software solutions vs using the same software for everything, you tell me which one is better.
When you have a complete view of what is happening across your business, you can make better decisions and do faster. I strongly believe that integrations will be a major part of the future of CRM.
Improve Customer Intelligence with AI
You already know that a customer-oriented approach is the secret to business success. Traditionally, you need data analysts on your marketing team to visualize bulks of data. The more experienced your analysts are, the better decision-making support they can provide.
But what if you replace analysts with AI? Artificial intelligence will always get an edge thanks to how these models are trained. To drive new CRM growth, providers are spending billions in training AI with humongous data sets.
If you decide to invest in a CRM system that offers predictive analysis, you get to boost the customer intelligence of the CRM users to drive better business decisions.
Invest in the right technology
An AI CRM or a mobile CRM is a great place to start pushing the boundaries. But a CRM is only one piece of the puzzle. There are plenty of other emerging technologies that can take your business to new heights.
AI is another example. Then there are sales funnel builders. If you own an e-commerce business, you can benefit tremendously from a complete e-commerce solution.
What I'm trying to say is that business owners need to develop a mindset to consistently invest in technology. It's normal to feel intimidated by the upfront costs of implementation. But in the end, all investments offer massive ROIs!
Best CRM Systems to Use in 2023 and Onwards
Before I wrap this guide up, let me introduce you to some of my favorite CRM software. I've personally used them all so I understand the pros and cons of each.
Salesforce
Salesforce is one of the most widely used CRM out there. It labels itself as the "customer company", enforcing its focus on customers rather than businesses.
Customer360 is Salesforce's complete suite of products that helps sales reps, marketing professionals, customer support representatives, and IT professionals.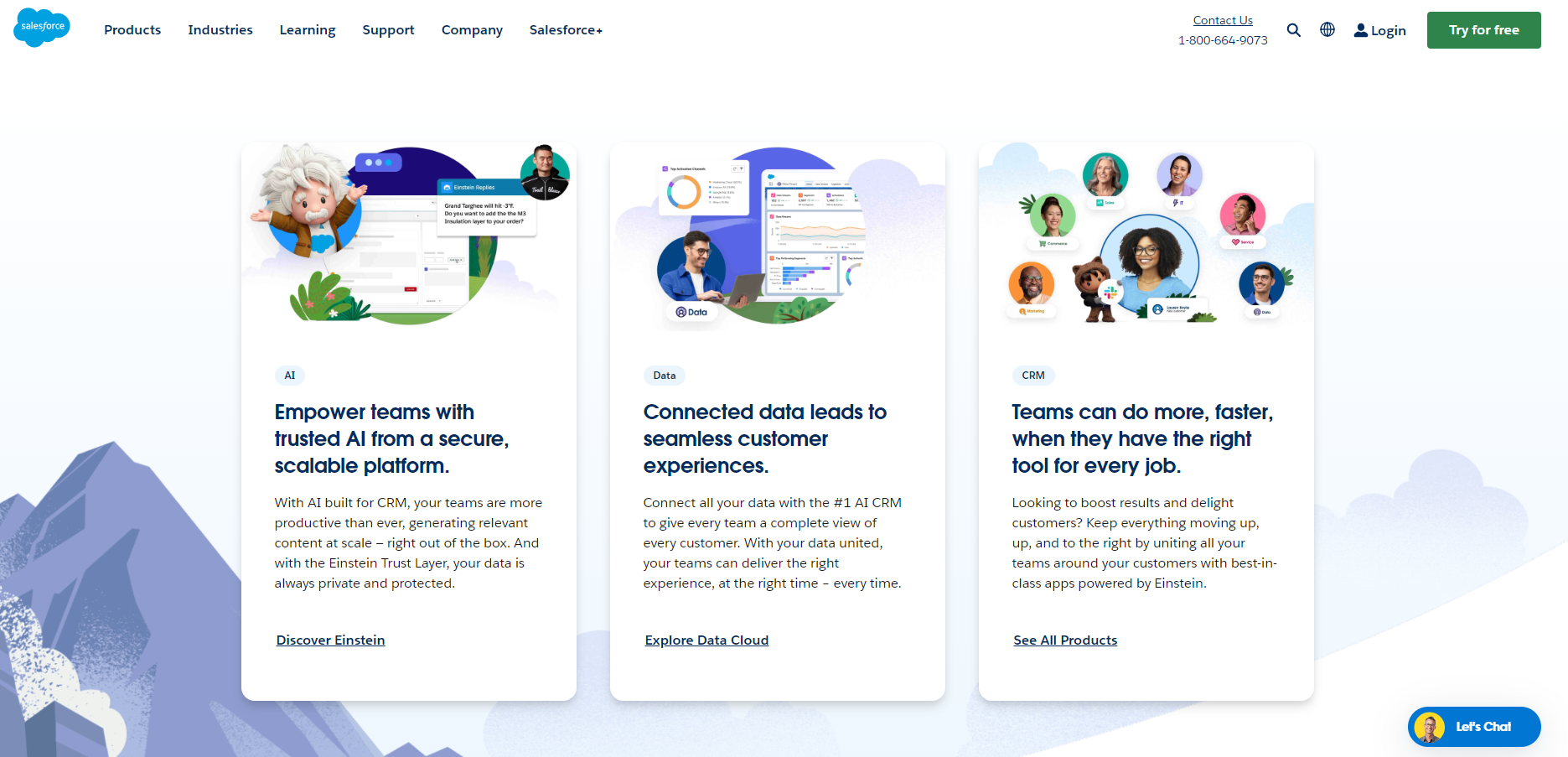 When it comes to pricing, you first have to decide what your needs are. You can either get the Cusotmer360 or separate modules if you don't need them all at once.
The selection process starts with CRM buyers answering a few questions about their business to give Salesforce sales reps a better idea of what they need.
Be sure to answer the questions carefully and holistically.
Zoho CRM
With the motto "Superfast Work. Steadfast Growth", Zoho CRM is a very strong contender in the space. It's best suited for customer-facing teams who can benefit from features like automation and analytics the most.
With Zoho CRM, you can automate workflows, campaigns, customer journeys, and other business processes to reduce time spent on these tasks. You can use the saved time to build meaningful relationships with paying customers.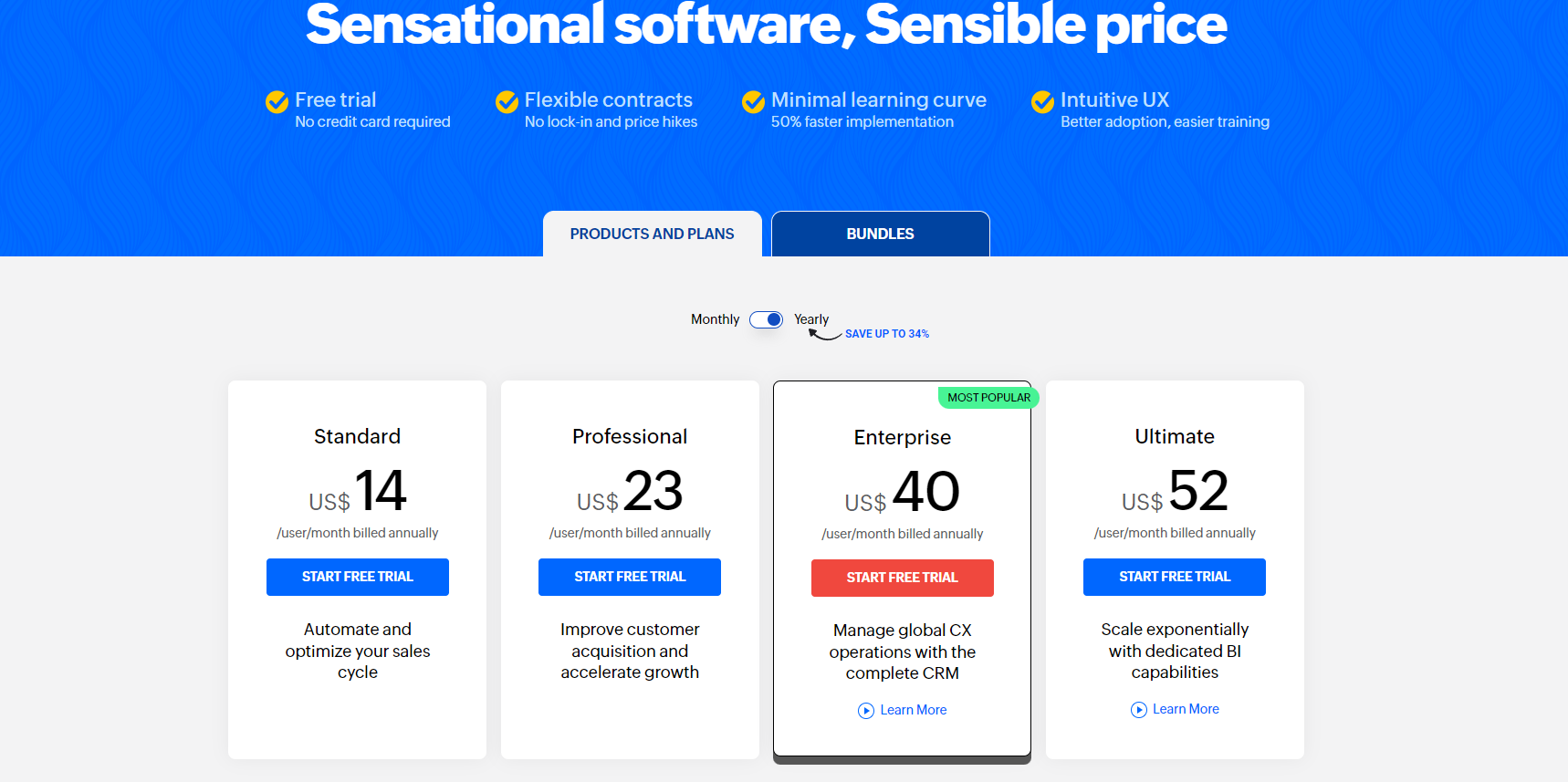 What I like most about Zoho is its integration with over 800 apps. From Microsoft365 to Google Workspace to Slack to Trello, all popular productivity apps are compatible with Zoho CRM.
Zoho offers a 15-day free trial for first-time buyers. If you're happy with what you see during this time, you can get the paid plans. The plans start with Standard ($14) followed by Professional ($24), Enterprise ($40), and Ultimate ($52). These are the prices you pay per user per month.
Asana
Asana is a sales management tool rather than a CRM. But it includes so many CRM features that you can use it as one. The key features include a workflow builder, timeline builder, Kanban boards, calendar, app integrations, reporting, forms, automation, goals, and even AI-powered Asana Intelligence.
As you can see, Asana is no less than a CRM. If you already have Asana but didn't know these features exist, you're in luck. Instead of investing in a complete CRM solution, you can start utilizing these features.
The best part is that you can start using Asana for free with the Basic plan. It offers unlimited tasks, unlimited projects, unlimited file storage (up to 100MB per file), time tracking integrations, calendar view, and a few other common CRM tools.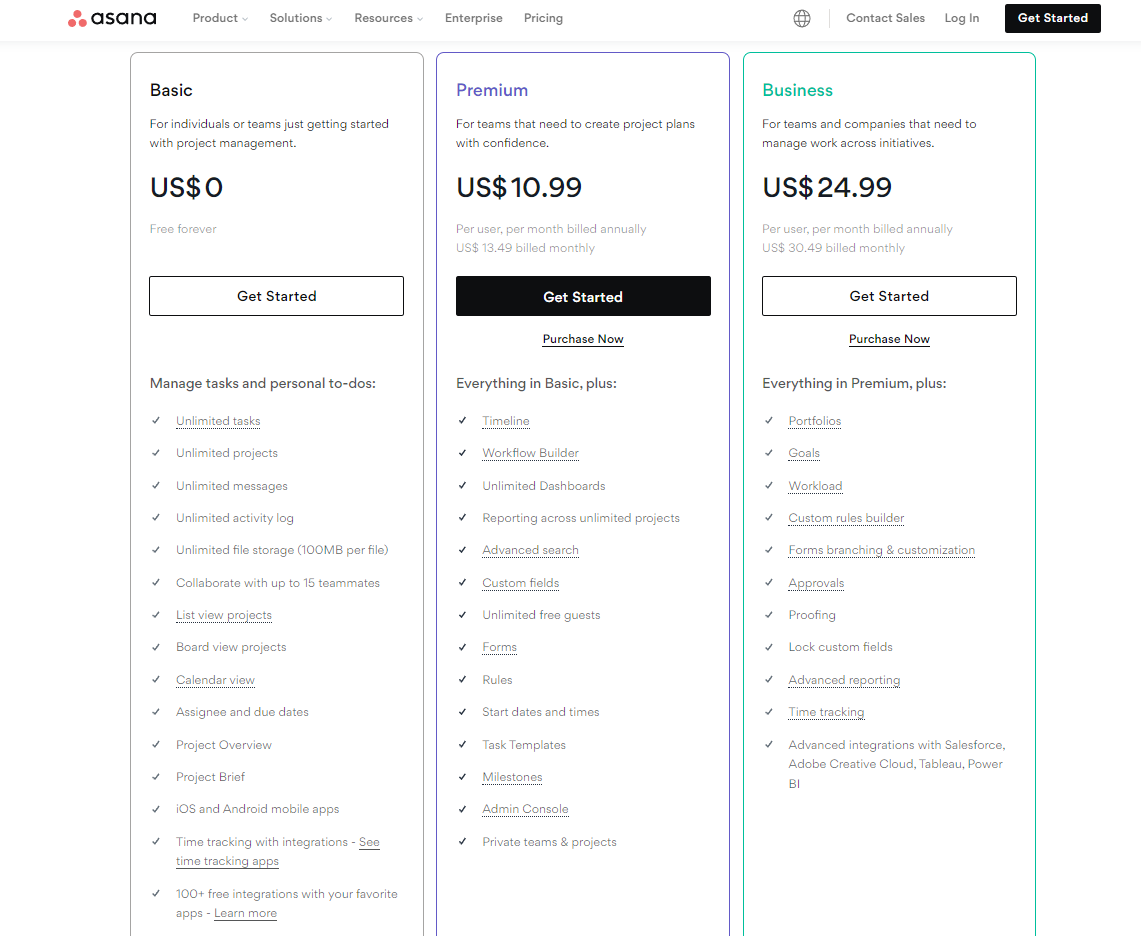 Besides the free plan, you can also explore Premium and Business plans if you need more advanced features like workflow builder, milestones, and admin console.
Insightly CRM
Insightly is one of the simplest CRM solutions out there that allow business owners to unify sales, marketing, service, and integrations. The tool is very scalable, allowing solopreneurs as well as enterprise-grade businesses to grow and build relationships.
I have made countless sales pipelines with Insightly before and all of them turned out to be excellent revenue generators. It's all thanks to the impeccable lead management features.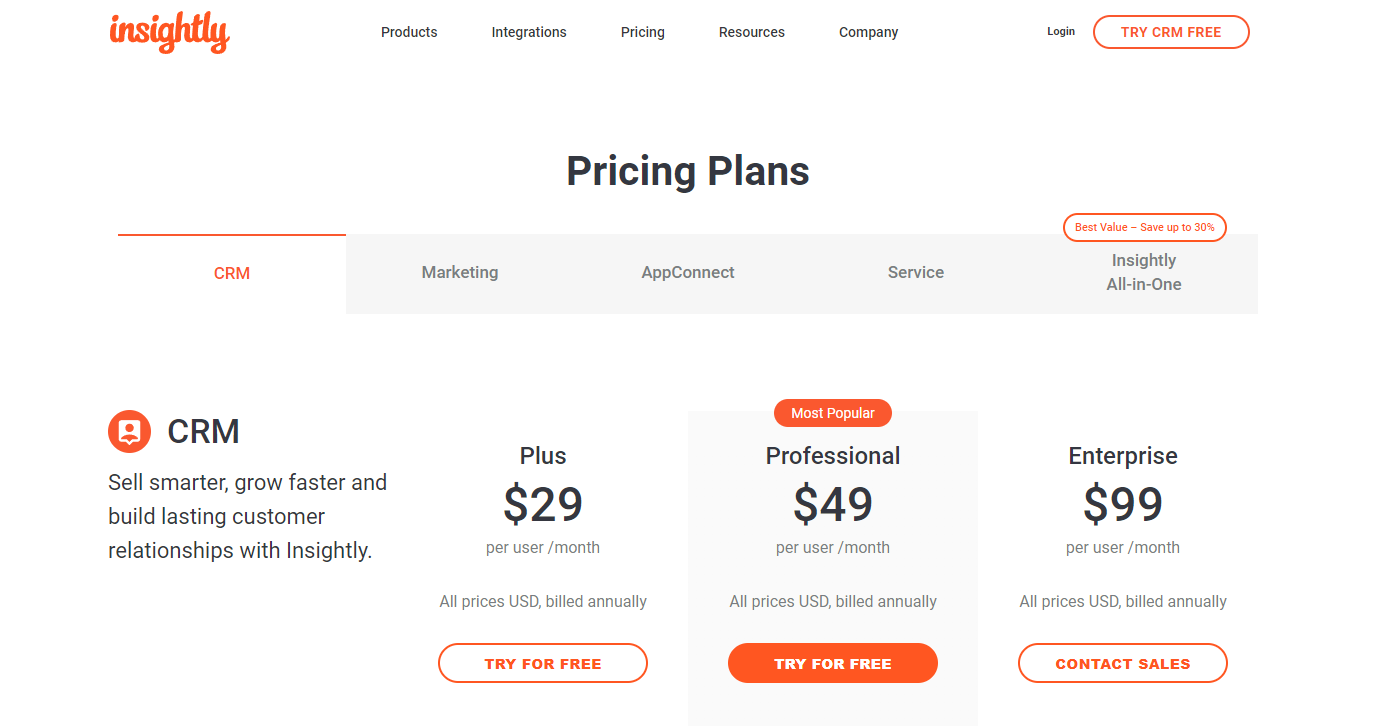 To maintain a proper business environment, you can also assign rules and permissions to the users to automate the processes. You basically get to use Insightly as your CRM as well as your project management tool.
Compared to other CRM options, Insightly is relatively more expensive. It starts at $29/month/user and goes all the way up to $99 for Enterprise businesses.
Thankfully, all of the plans are available for a 14-day free trial. I'm certain you'll love it and end up getting one of the plans.
FAQ
How will CRM change in the future?
The future of CRM in my opinion is centralization. CRM platforms will integrate virtually every aspect of a business under the same umbrella.
Why is CRM growing?
The CRM industry is projected to grow at a staggering 13.9% rate between 2023 and 2030, all thanks to increasing CRM users. Business owners have realized the power of building relationships and they're ready to embrace it.
What are common CRM trends?
Automation, centralization, and integration are some of the most common CRM trends in 2023 and onward. These trends will likely take off in the near future to drive new growth.
What are the main goals of CRM?
Businesses adopt CRM solutions primarily to improve customer retention, accelerate sales cycles, decrease customer acquisition costs, and of course, sell more.